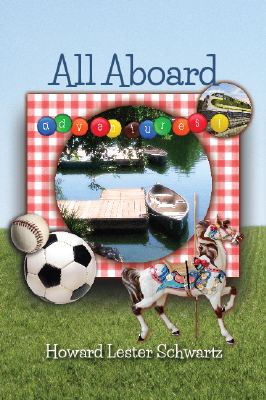 Click Here to Purchase:  All Aboard by Howard Schwartz on IPBooks.net
Praise for Howard Schwartz's New Children's Book, All Aboard:
"I found this book to be a delightful depiction of what life can be like for children, parents and grandparents who appreciate and enjoy each other. It's written as a chapter book but I felt it was more a series of snapshots of the various challenges and rewards occurring in the lives of families circling around the curiosity and wishes of young children to explore and understand the world around them. Indeed, each snapshot stands on its own and yet is enhanced by the others.
It was particularly pleasurable for me to read this book in an era where each new book seems to be moving in a darker direction, intent on highlighting what's wrong with the world. It's great to be reminded that there is a wonderful side to life."
—Noah Shaw, MD, Institute for Psychoanalytic Education,
affiliated with the NYU School of Medicine
(Adult, Child and Adolescent Psychoanalysis)
"While this is not a volume with a formal thesis, one does evolve in the reading: What is all-important in a child's development and in an adult's adaptation is not necessarily the BIG event and the reactions to it; we are influenced powerfully by the everyday, the ordinary, even the mundane even as we fail to accord them proper respect.
In Howard Schwartz's richly entertaining All Aboard, a series of pre-bedtime short stories are inspired by memories of the trivial of long ago that have gained new meaning in the here and now, and by very un-special moments of today destined to be the reveries of the future. Quiet times with parents and grandparents take on new value. Grandmother becomes nostalgic and tells about her childhood friend. A grandfather takes a grandson fishing. Kids make of a night in the back yard something more harrowing than it was. The tales that are told, some fact-based, some possibly embellished shamelessly, are no mere bubbe maiseh, but important 'life lessons.'
In the strictest sense of the term, this is not a psychoanalytic text. Oh my, no. But Dr. Schwartz's thinking and his writing is psychoanalytically informed. He brings to bear a knowledge base derived from many years of esteemed clinical work. Makes one wonder why he didn't become a child analyst. Would have been a good one."
—Charles Goodstein, MD, Institute for Psychoanalytic Education,
affiliated with the NYU School of Medicine
(Adult, Child and Adolescent Psychoanalysis)
Click Here to Purchase:  All Aboard by Howard Schwartz on IPBooks.net
Explore posts in the same categories:
Books