The Friends of the Brill Library invite you to Meet the Author: Donald Moss
Wednesday, March 28, 2018 at 7:30 pm, New York Psychoanalytic Society & Institute, The Marianne and Nicholas Young Auditorium
247 East 82nd Street | New York City, General Admission: $15, All proceeds support the A.A. Brill Library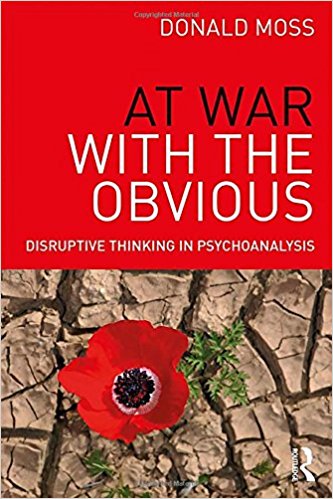 Register HERE, visit nypsi.org or call 212.879.6900
The Friends of the Brill Library invite you to an evening with Donald Moss, MD, the author of At War with the Obvious: Disruptive Thinking in Psycho-analysis (Routledge, 2017).
The author situates each chapter of At War with the Obvious at the border between common and psychoanalytic sense. Cumulatively, the book argues that in order for psychoanalysis to retain its original vitality, it must continuously work against becoming "common sensical".  Common sense – clinical and cultural – almost invariably obscures the uncommon/unconscious determinants that would expose its insufficiencies.  The most pointed expression of this border tension may be in the chapter, "The Insane Look of the Bewildered Half-Broken Animal."
Copies of the book will be made available for purchase for $35 at the event.
Donald Moss, MD is a faculty member of the New York Psychoanalytic Institute and the San Francisco Center for Psychoanalysis, and is in private practice in New York City. He is also a member of the Green Gang, a four-person collective that studies the relationships between the human and non-human environments. He is currently the incoming Chair of the American Psychoanalytic Association's Program Committee, and has been on the editorial boards of the Psychoanalytic Quarterly, the International Journal of Psychoanalysis, American Imago, and Studies in Gender and Sexuality.  Over the past 35 years, Dr. Moss has authored more than 50 psychoanalytic papers and three books: Hating in the First-Person Plural (2003), Thirteen Ways of Looking at a Man (2012), and At War with the Obvious (2017).
NO CME OR CE CREDITS WILL BE OFFERED.
NEW YORK PSYCHOANALYTIC SOCIETY & INSTITUTE
247 East 82nd Street, NY, NY 10028
212.879.6900
www.nypsi.org
Explore posts in the same categories:
Announcements