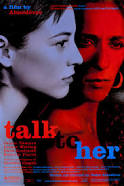 Brill Library Film Series Screening & Discussion of Talk to Her with William Fried, PhD
Screening & Discussion of Pedro Almodóvar's Talk to Her William Fried, PhD
Wednesday, April 25, 2018, 7:00 – 10:00 pm, The Marianne and Nicholas Young Auditorium, 247 East 82nd Street, NYC
From Pedro Almodóvar, the director of the Academy-Award(r) winning All About My Mother (Best Foreign Language Film, 2000), TALK TO HER is the surprising, altogether original and quietly moving story of the spoken and unspoken bonds that unite the lives and loves of two couples. Two men (Benigno and Marco) almost meet while watching a dance performance, but their lives are irrevocably entwined by fate. They meet later at a private clinic where Benigno is the caregiver for Alicia, a beautiful dance student who lies in a coma. Marco is there to visit his girlfriend, Lydia, a famous matador, also rendered motionless. As the men keep vigil over the women they love, the story unfolds in flashback and flashforward as the lives of the four are further entwined and their relationships move toward a surprising conclusion.
In his discussion, Dr. Fried will explore Talk to Her as representing the convolutions of desire by focusing on relations in which one of the two partners is comatose. This situation enables the mechanisms of projection and introjection to become the sole relational vehicles.
General Admission – $15
Student Admission – $10
All proceeds support the A.A. Brill Library
Purchase Tickets
William Fried, PhD, FIPA, is a clinical psychologist, psychoanalyst, photographer, educator, author, and editor. Until 2000, he was the Associate Director of Psychiatry Residency Training and the Director of Training and Education at the Maimonides Medical Center in Brooklyn, NY. In 2000, the Association for Academic Psychiatry named him Teacher of the Year, the first time such an award was given to a non-physician. Dr. Fried has published papers on clinical psychoanalysis, psychopolitics, applied psychoanalysis, group therapy and group dynamics, mental health education and training, and psychoanalytic theory. He has also written catalogue essays for the exhibits of prominent artists. His own photographs were shown in several solo gallery exhibits. Dr. Fried's book Critical Flicker Fusion: Psychoanalysis at the Movies, (Karnac, 2016), has just been published and is available from both Amazon and Karnac Books.
NO CME/CE credits offered
Explore posts in the same categories:
Uncategorized